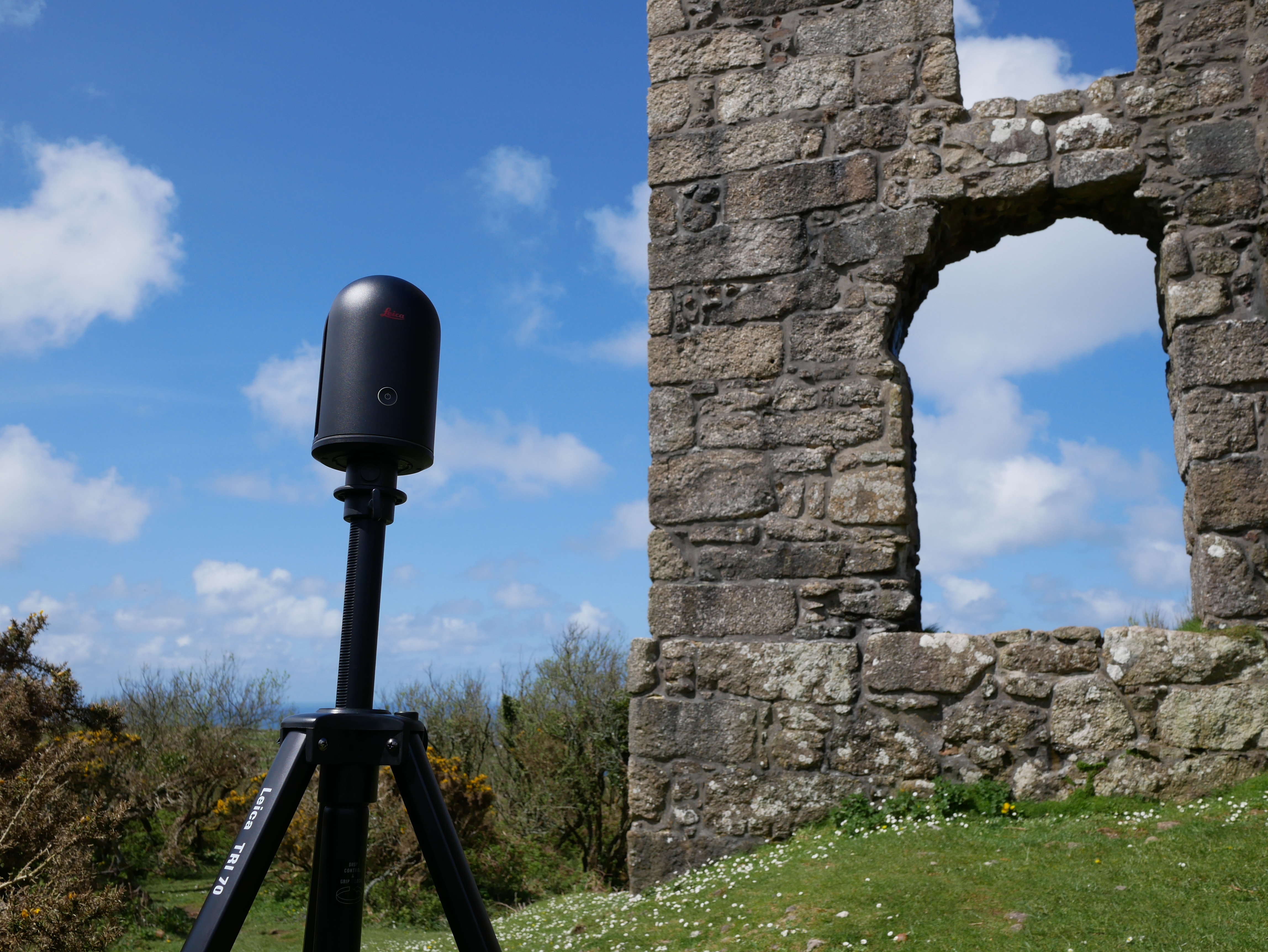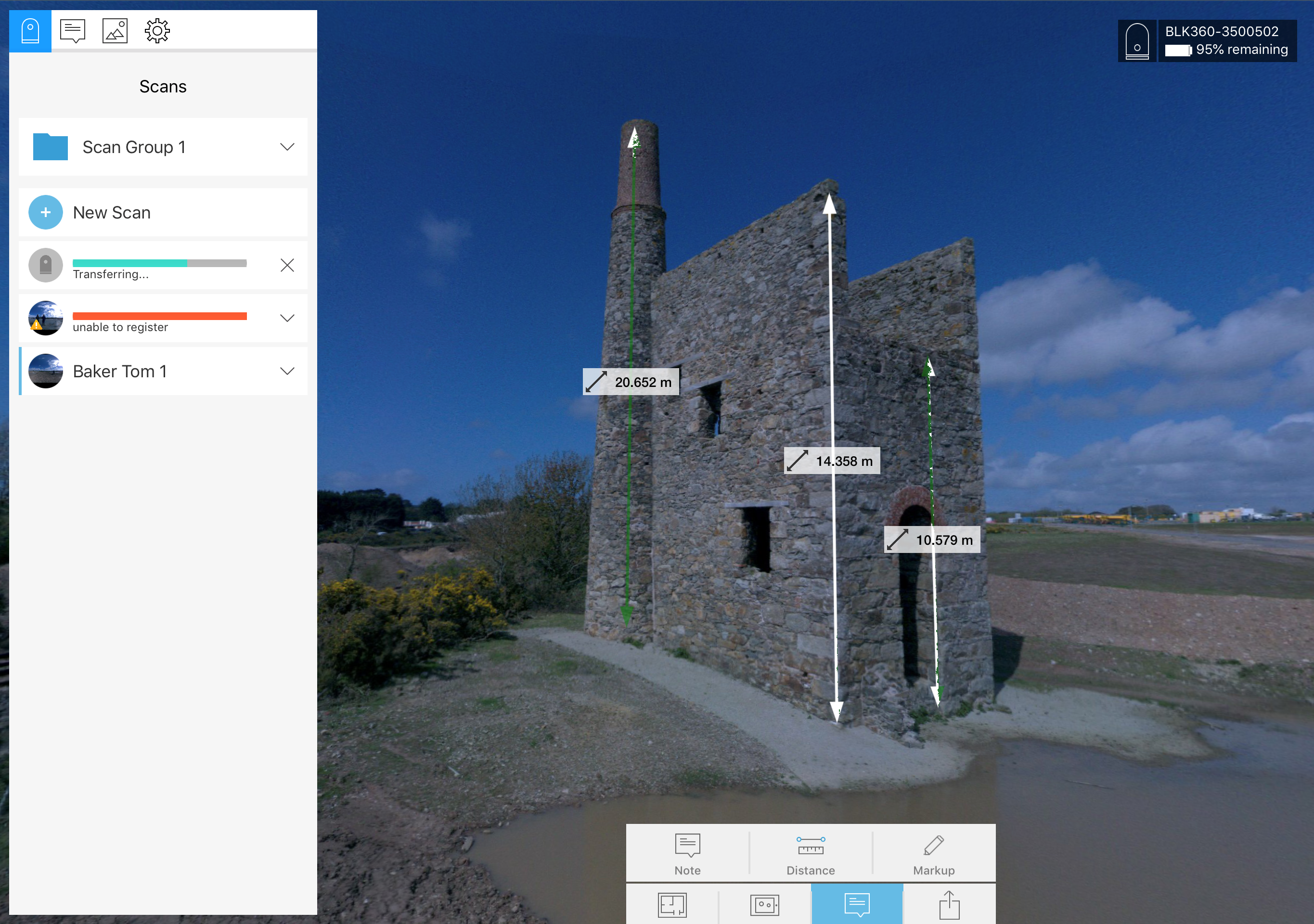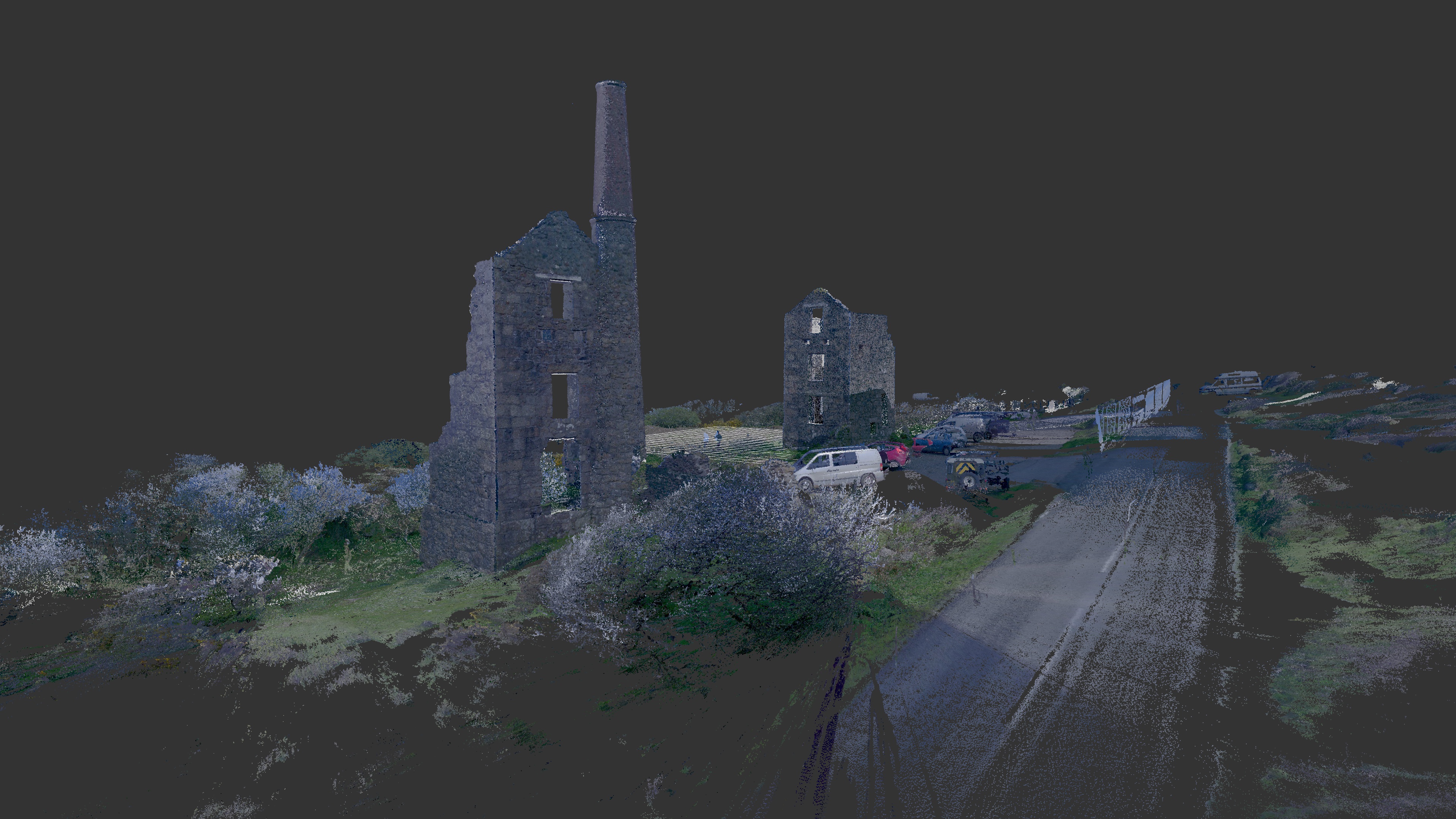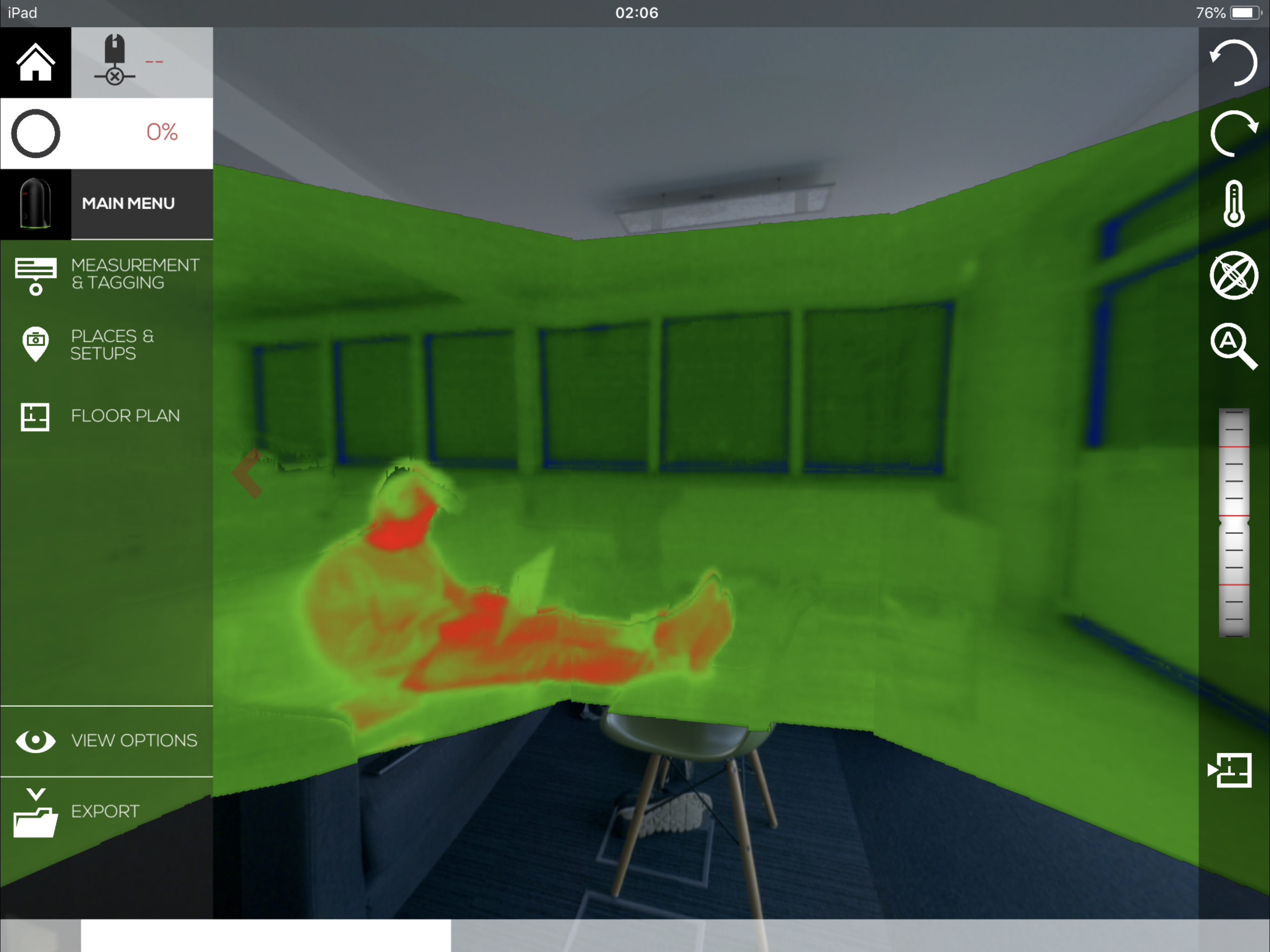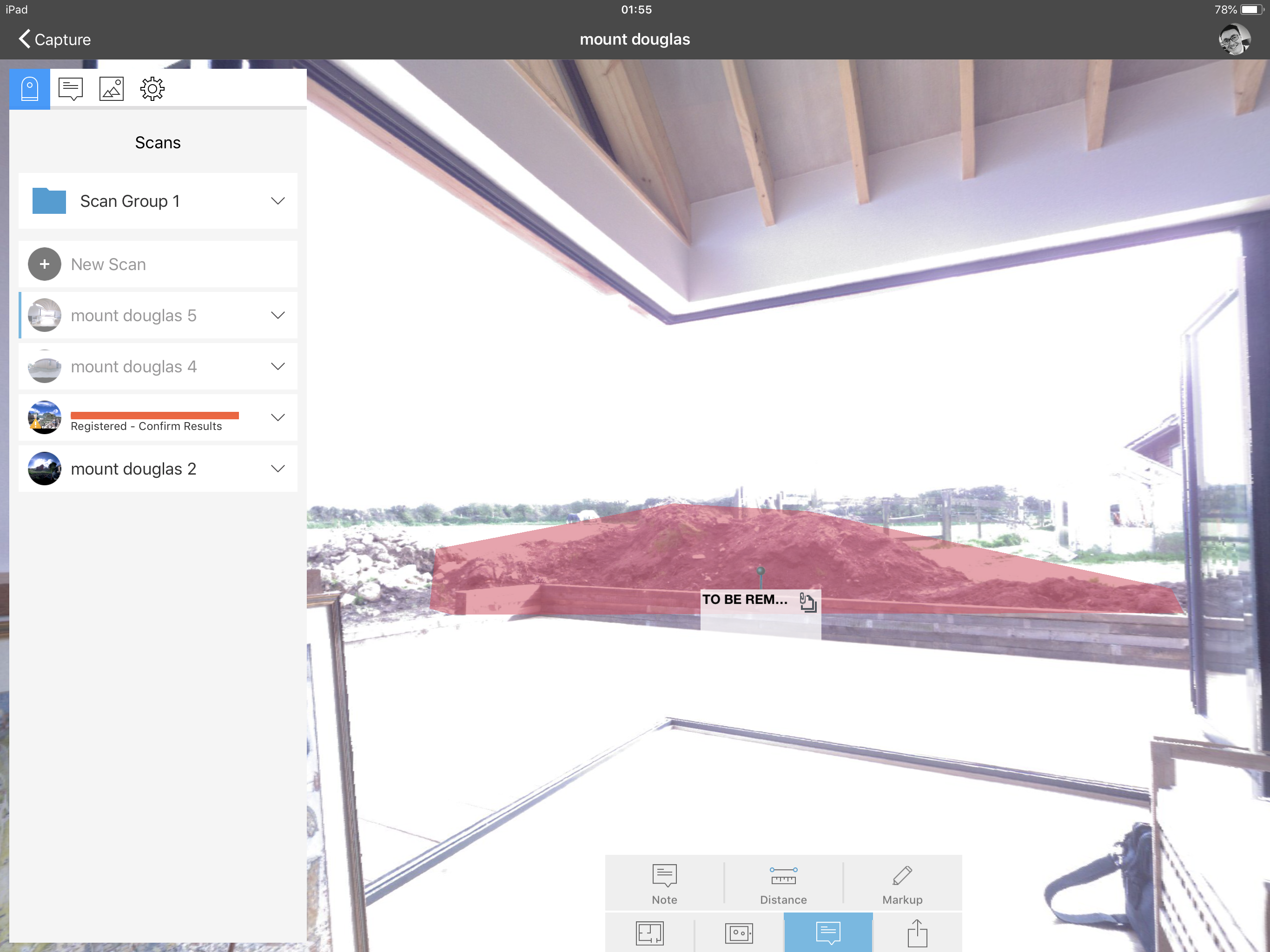 Full AEC feature @
https://www.aecmag.com/technology-mainmenu-35/1605-blk-to-the-future
BLK to the Future: Field Test of the Leica BLK360
Since the launch of the Leica BLK360 - a portable 3D scanner with integrated spherical imaging and thermography sensor systems - in Las Vegas back in November 2016, there has been significant hype surrounding the potential of the BLK360 for AEC industries as well as other professional creative fields alike. Sophisticated, Premium, Refined, Polished, Elegant, Resolute, Clever, Dedicated and Elevated are the words Leica's marketing team have used to describe the BLK360, painting the picture of a simple, compact and agile 3D scanner that has been specifically aimed at AEC professionals for their use in the field.
In order to interrogate such, RIBA Chartered Architect, Jacob Down took the BLK360 on a week long excursion across multiple sites in West Cornwall, not only to critically examine the BLK360 hardware and Autodesk's Recap Pro software which is operated remotely via an iPad Pro, but also better understand how the accessibility of the BLK360 with a RRP of £15,550 + VAT can, and will, revolutionise methods of working for AEC professionals.
Impressions
At first glance, the most striking attributes of the BLK360 are its size and styling. With a height of 165mm, a diameter of 100mm and weighing only 1 kg, it is small and light, enabling it to ergonomically fit into the palm one's hand, fit inside one's conventional work bag, or carry it single handed via the protective transport hood. It's retro styling is based on the bullet like form of the Wild T2 Theodolite from 1921, however from the black anodised aluminium finish, single-button operation and continuous LED ring at the base of the scanner which illuminates green, yellow or red to illustrate the operational state of the BLK360, you would be forgiven for not drawing the parallel.
In addition to the scanner unit and transport hood with base that doubles up as a floor stand, the BLK360 is also supplied with two rechargeable Li-Ion batteries, a battery charger and a Leica tripod with the BLK360 mounting mechanism which incorporates a button-press quick release. Although aesthetically seductive and in keeping with the sleek lines of the scanner unit itself, it would seem this tripod is mainly geared for indoor use on a level surface as it does not include spirit level and the legs, once fully pivoted open, don't lock into position which does make it a little less stable than it could be. That said, Lecia do manufacture a BLK360 tripod adapter which enables the BLK360 to be mounted to standard camera tripods, and we used a Leica TRI 70 for all of our outdoor scanning for additional stability.
The Specification
The BLK360 utilises high speed time of light enhanced by Waveform Digitizing (WFD) technology with a Laser Class 1 classification in accordance with IEC 60825-1:2004. This is an invisible beam with a wavelength of 830nm which emerges from the rotating mirror at a rate of up to 360,000 points per second. It is stated that this is not harmful to the eyes provided its used in accordance with the user manual. Capturing a full 360 degree field of view horizontally and 300 degrees vertically, it leaves a blind spot directly beneath the scanner which is usually repleted with points from another scan once registered. The accuracy ranges from 4mm [at 10m] to 7mm [at 20m] and the stated distance range is a minimum of 0.6m and up to 60m, however we found we were able to pick up points a little closer and further than this within some of our scans. There are three available scanning modes; low, medium and high with scanning times ranging from 1:45 minutes for low resolution without any photo imaging to 7:10 minutes in high resolution and full HDR colour. We found a good baseline was a Medium setting with photo imaging but no HDR which completed a full scan in 3:00 minutes.
The BLK360 has 3x 15 megapixel cameras capable of HDR with LED flashlights recessed into the rear of its bullet like form resulting in a 150 megapixel full dome capture. This results in a 360 degree by 300 degree calibrated spherical image which is used to map RBG values to corresponding pointcloud points and stored within the internal memory capacity of 32GB.
In addition, the BLK360 hosts a longwave thermal imaging camera also recessed into the rear of its encasement. It would seem from our experience that Recap Pro does not currently have the functionality to activate or view the 360 degree by 70 degree thermal panoramic image which the hardware is capable of capturing, however we found this function can be activated and viewed using Leica's native BLK360 app also accessed through the iPad Pro.
A fully charged battery lasts between 2 and 2.5 hours depending on the specific the scan settings and although the BLK360 is supplied with two batteries, if you were planning to do a full days scanning it would be prudent to have an additional two fully charged batteries in your setup, as once the batteries hit 15% capacity, the BLK360 will no longer be able to undertake a scan.
The BLK360 is stated for use indoor and outdoor with an operating temperature +5 to +40 degrees centigrade and a solid particle and liquid ingress protection to IP54 (IEC 60529).
In the Field
So what does that all actually mean? Accompanied with the BLK360 and Autodesk Recap Pro for the iPad Pro, we explored its potential during an average working week at Poynton Bradbury Wynter Cole Architects, and upon visiting a number of varied sites across the West Cornwall, the significance of the BLK360 soon became apparent.
From full colour high density captures in HDR of a Scheduled Monument, thermal imaging an internal room elevation of an existing building, capturing reliable as-built geometry for verification against as-designed BIM models, to quick full colour scans of a grade II listed engine house to determine key contextual levels to evolve the concept design of a new bakery. The BLK360 is an extremely versatile piece of technology that can be applied to a number of applications and fields across the AEC industry. It maybe the same size as your digital camera, but it facilitates so much more.
Once positioned onsite the BLK360 is simply turned on by pressing the one and only button on the scanner. After a few flashes of orange the LED illumination ring turns green and you are ready to scan. With the iPad Pro in hand and the Recap Pro application open the app should automatically pair with the BLK360 via its wifi connection.
Once paired, a 'New Project' can be selected and project name inputted. This will lead you to the project page where you tap 'New Scan' to commence the scan. It's that simple.
You are able to toggle the 'In-App Scan' and 'Push-Button Scan' settings to capture photos, HDR and flash or adjust the exposure, compensation and scan density to low, medium or high also at the tap of a button.
The 'Medium' setting with photo capture provided quality results within 3 minutes enabling us to optimise our time onsite. However, for external scenes we found the 'High' setting was much better suited for picking up geometry situated at further distances, yet this did result in an additional 1.50 minutes per scan - which over the course of multiple scans begins to really affect the overall scanning time.
Having commenced the scan, the BLK360 will do a quick full rotation in order to analyse the most suitable exposure settings for capturing the surrounding environment. It will then proceed in capturing the panoramic imaging which can be viewed live in the app, revealing the 360 degree spherical capture, before finally undertaking the laser scan in which a rotating mirror at the heart of the BLK360 spins measuring points in the vertical plane as well in slowly spinning on its central axis for a full rotation capturing a full dome of geometry in a poincloud.
Upon completion the flashing orange LED ring turns to green and the BLK360 can then be repositioned and commenced in the next scan location whilst the previous scan is still being transferred and processed within the iPad's interface. As subsequent scans are completed Recap Pro can automatically register the scans to position them in the correct location, with the user merely having to review and confirm the results with a tap of button.
We found the auto registration worked fine in internal environments but struggled more in external scenes where the scan would then have to be manually registered, which is a straightforward process involving the selection of 3 corresponding points in two different scans.
Additional functions within Recap Pro include the ability to view the scene in plan view illustrating registered scan locations in relation to each other, assign a text note, photo, coloured markup within the scan, or measure and dimension the distance from any point to point.
These tasks can be undertaken whilst a live scan is underway, however our experience led us to not risk multi-tasking within the app as this did result in the app crashing a few times, and in doing so loosing the scan currently being captured. We therefore opted to use the Recap Pro app purely for capturing the scans in the first instance before adding any annotations, photos, dims or markups within the app once scanning was complete. We also prefered to undertake the registration process back in the studio once the scans had been transferred via the USB connection into the Autodesk Recap Pro on the PC workstation as we felt this enabled more control and accuracy over the manual registration and registration confirmation processes.
Once fully registered and indexed within Recap Pro the .rcp file can then be seamlessly imported into your Autodesk Revit or Navisworks workflows, or exported to other software platforms via a compatible pointcloud file format.
One morning we spent 40 minutes on site capturing 8 scans of a clay drying kiln and within an hour back in the studio we were able to fully register and import the coloured scan into Autodesk Revit ready to inform the design process.
We also activated the thermal imaging camera through the Leica BLK360 app to generate a heat mapped image of an internal elevation of an existing building to better understand where there was potential cold bridging. The results did clearly identify cold bridging around the window frames [as expected] however were not sufficient for any real in-depth analysis as variations in colour gradients were too extreme and we were unable to control the temperature range illustrated. That said, ability to undertake a basic thermal image at one's own will is very powerful.
Additionally, in an onsite meeting the scanner was used to measure the heights of three varying elements of a building by simply taking a 3 minute scan and measuring a point to point at the required locations providing the design team with the required information onsite, there and then. The scanned data was also used later that day when it was imported into the WIP Revit file to provide some contextual data for a set of architectural drawings.
The Future is BLK?
The point is that the BLK360 is not merely just a 3D scanner, due to its size, price and simplicity of use, it is the first accessible 3D scanner to the AEC industry which in turn opens up a world that was previously out of reach to most small to medium sized AEC practices and contractors. What this therefore facilitates is the introduction of 3D scanning to the masses and the process of 3D scanning becoming an integral part of not only conventional surveying, but more interestingly aiding the planning, design, onsite and inspection stages of construction and engineering in the future.
During the week, the BLK360 did surprisingly little 'surveying' in the conventional sense. It is not capable of GPS positioning and with its limited range is not going to make surveyors obsolete anytime soon. However, what it did do was gave us an insight into the new methods of working which are facilitated by having a Sophisticated, Premium, Refined, Polished, Elegant, Resolute, Clever, Dedicated and Elevated reality capture device, not only sitting in the palm of your hand onsite, but fitting into your bag and sculpting your AEC workflows moving forward.
The BLK360's accessibility combined with its performance and wide spectrum of functionality make it a seminal piece of technology ready to revolutionise workflows within the AEC industry.
■ l
eica-geosystems.com
■
jacobdown.co.uk
e. studio@jacobdown.co.uk - t. [+44] 07706570120 - St. Ives and Sennen, Cornwall
---
© Copyright jacobdown : architect. 2022. All rights reserved. Jacob Down Architect Limited - Company Number: 14033601 - 71-75 Shelton Street, Covent Garden, London, WC2H 9JQ